Ant Farm Village – Live Ant Habitat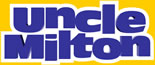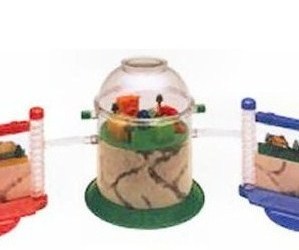 As an Amazon Associate I earn from qualifying purchases
Sometimes, bigger really is better, as it is in the case of Uncle Milton's Ant Farm Village. This product is not just an Ant Farm, but an entire Ant Farm Village. The village is constructed of three parts including the central Antville Habitat and the two smaller Mini Ant Farms. The three sections can be connected with the help of the clear, flexible, Antway Connector Tubes. The two Mini Ant Farms can also be stacked on top of one another and you can watch as the ants climb the stairs from one compartment to the next. The Ant Farm Village can also be connected to other Uncle Milton Ant Farms with the help of the connecting tubes. In the Ant Farm Village, ants are not just in a farm, but a town. They busy themselves building and scampering around the "town" and the adjacent Mini Farms. This deluxe all-in-one set offers all of the fun and excitement of Uncle Milton's Original Ant Farm plus much more. You can begin with just one section and then slowly expand to the other pieces.
Contents of the Ant Farm
The Ant Farm Village comes with everything you will need to start your Live Ant Habitat including the Antville Habitat, two Mini Ant Farms, Antway Connector Tubes, tunneling sand, an ant watcher's manual, a coupon for live harvester ants, food, and a water feeder. Additional sand, food, and ants can be ordered when the need arises.
Ants
Live harvester ants are sent to you free of charge after you mail in your coupon. All you need to do is fill out your details, add some money for shipping and handling, and wait for your ants to arrive. You can also try and catch your own ants, but this can prove to be quite difficult, and it is hard to know whether you have captured the right ants for Uncle Milton's Ant Farm Village. Harvester ants are ideal since they are larger than ordinary garden ants and have mandibles, which assist them with their tunneling and digging.
Lifespan
Outside of the Ant Farm, these harvester ants can last up to two years. However, within the Ant Farm Village colony, ants will live between a few weeks and a couple of months. Sometimes the ants live longer and other times some expire after only a few days. Without a queen ant and their natural habitat, ants cannot thrive the way they normally do. Still, the time these ants spend in your Ant Farm Village is enough for you to get an idea of what ant life is all about.
Ant Care
It is important to feed and water the ants but it s equally important not to overfeed and overwater them. The ants can be fed once a week with the food included in with the kit and the food that is available through Uncle Milton. Ants also like bread crumbs, apple bits, birdseed, hard-boiled egg, honey mixed with water, leaves, dead flies, and hamburger bits. The food should be no larger than an uncooked corn kernel.
Recommended Age
Just like Uncle Milton's other Ant Farms, the Ant Farm Village is intended for anyone age six and up. Both younger and older children will enjoy observing these little creatures as they climb stairs, move from unit to unit, and most of all build tunnels and bridges for their colony. It is remarkable how much work these tiny beings are capable of doing and how strong and intelligent they are.
Product Dimensions
6.1 x 7 x 13.2 inches ; 1.8 pounds