Fascinations AntWorks Space-Age Habitat Ant Farm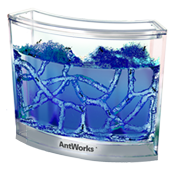 As an Amazon Associate I earn from qualifying purchases
Live ant habitats are all about having the ability to observe the tiny creatures as they live, work, and tunnel, so what can be better than watching them through a translucent, non-toxic blue gel in a durable container available through Fascination AntWorks? This item is unique in that water and food are not necessary since the nutrient gel provides the ants with everything they need in order to ensure healthy growth within their colony. In addition, the gel contributes to the housing medium of the habitat by giving them a substance to work with. What's great about this ant habitat is that order-by-mail ant as well as local ants can be used, although some users have felt that the ordered ants were more successful at building tunnels since those ants are generally larger than the ones found outside.

The Fascination AntWorks Space-Age Habitat Ant Farm was influenced by a space shuttle experiment, which was conducted by NASA in 2003. The experiment studied animal life in space and showed how successfully ants lived and tunneled in microgravity. Not only is this item fun, exciting, and attractive looking, but it serves as a remarkable educational tool. Whether you choose to place this compact habitat in your home or in your classroom, you can be sure to have interested and intrigued observers who are constantly learning and asking intelligent questions. One of the main elements of the original experiment included this ingenious Nutrient gel, which not only saves you the trouble of feeding the little critters, but the mess and hassle as well.

With everything thought of and taken care of, all you need to do is sit back, relax, and enjoy watching the little creatures as they begin creating a new world for themselves. These highly intelligent ants are organized, numerous, and strong, and so they succeed in creating endless intricate tunnels. The combination of their largely developed brains, their unbelievable strength (they can carry 20 times their body weight!), their ability to work with fellow ants, and their natural "work ethic" results in an absolutely fascinating species to study. Never have ant habitats been so much fun to have, watch, and run!
Contents of the Ant Farm
Fascination AntWorks Space-Age Habitat Ant Farm comes with the gel filled container, a magnifier, an ant catcher, and an activity guide, which includes simple instructions along with an educational booklet. There is no need for food, so you don't have to bother ordering food like with other ant habitat kits or feed them from the food that you have in your kitchen. You don't need to water the ants either. The gel is already in the container so you don't have to fill it like you do with the sand ant habitats. If you want to re-use your AntWorks Habitat, all you need to do is wash it out as directed and either order more ants or catch new ones. The new colony will not tunnel as intensively as the previous clony did though.
Ants
Unlike other ant farms, this one does not include a coupon for receiving free live ants. You need to order and pay for the ants separately or be a bit adventurous and collect your own. If you choose to catch them, make sure you are wearing gloves and never touch them with bare hands since some ants sting, bite, or spray formic acid. Generally around 25 ants are used in the AntWorks Space-Age Habitat. Some will die right away but that number of ants is still just fine. If there are less ants, they will just tunnel more actively. Do not mix the ordered ants with the ones you catch; they will end up killing each other.
Lifespan
For the most part AntWorks users are content with the state in which the ordered ants arrive; however this tends to vary depending on the weather and one's location. The best time to order them is between April and October. You should make sure that soemone is around to retrieve them from the mailbox so that they don't sit in the tube for a long time. Sometimes the ants all arrive alive and other times some are expired upon arrival. Without a queen ant, the colony will survive on average between a month and three months but a few ants or more may die before one month.
Ant Care
Caring for the ants is as simple as can be with Fascination AntWorks Space-Age Ant Farm because there is no need to give them food or water. The Nutrient gel provides the ants with everything they need to survive including food and water. All you need to do is sit back and enjoy the ant show! The temperature should also be consistent, ideally between 65 and 75 degrees Farenheit.
Tips
It is important to remove the dead ants from the habitat, since this can cause mold to grow. Ants should be ordered when the weather is not too hot or too cold and the mail should be checked constantly so the ants do not sit in the envelope for too long. The ant habitat should not be left in direct sunlight as this will turn the habitat into an oven.
Recommended Age
The recommended age for this unique product is from eight years old. The young and old alike will enjoy this item as a gift or as an object of study for the classroom. The AntWorks Ant Habitat is especially ideal for younger kids because it demands little maintenance. They don't have to bother with the feeding and the filling of the habitat. Additionally, the gel makes viewing the critters easier and more enjoyable.
Product Dimensions
8.5 x 8.5 x 3.5 inches ; 2.2 pounds