Backyard Safari Glowing Ant World Farm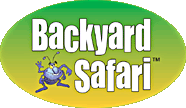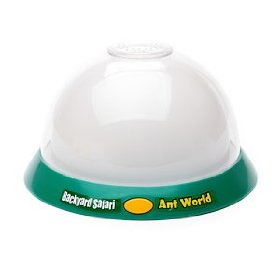 As an Amazon Associate I earn from qualifying purchases
What is unique about this particular ant habitat by Backyard Safari is the fact that is both dome-shaped and is illuminated, something no other ant habitat offers. The bulb-shaped habitat is meant to be filled with sand that is included with the kit. The ants that are sent for with the coupon can then be added into the habitat. With the simple press of the button, you can light up the tunnel and watch the tiny creatures scurry around digging tunnels, carrying food, and protecting their colony. This item is also great because you can view the ants from a 360 degree viewing area. There is a central feeding and watering area, which makes these tasks much easier and neater. Ants make great pets since they need little care and provide much entertainment at an extremely low cost.
Contents of the Ant Farm
The Backyard Safari Glowing Ant World Farm comes with a package of tunneling sand, a coupon for ordering free live ants, and the illuminated ant dome. The sand is enough for one colony of ants. If you'd like to reuse your ant habitat, you can order additional sand. Similarly, more ants can be purchased once yours expire. A small fee needs to be added for the shipment and handling of the ants.
Ants
Live ants can be ordered for free with the coupon included with the Backyard Safari Glowing Ant World Farm kit. It is best to order the ants between the months of April and October when the weather isn't too extreme. Around 25 ants are sent to you in a tube. Some may be expired upon arrival, which is not uncommon. It is important to retrieve the ants immediately so as not to let them sit too long in the mailbox. Before putting the ants into their new home, you should put them into the refrigerator for ten minutes or so in order to slow them down and make the transfer go more smoothly.

Ants can also be caught, but it is recommended to use the ordered ants since they are generally larger and tunnel better. Always wear gloves when catching ants since the ants can bite or sting, and never mix the caught ants with the ordered ants, as they will only kill each other.
Lifespan
Ants can live as long as a year and sometimes even longer, outside, in their natural habitat. However, without a queen ant and their natural surroundings, the ants cannot survive as long in the Ant World. On average, the ants will live anywhere between a few weeks and a few months. Some may expire right away while others may surprise you and live longer than predicted. By caring for the ants according to the instructions, you should see the best results from the ants and the longest lifespan possible.
Ant Care
Although ants need little care, it is still important to keep up certain tasks in order to see the utmost results from your Ant World Farm. Ants need to be fed and watered according to the instructions. Too much food or water can kill them. Direct sunlight is deadly for the little creatures as well. It is also important to keep the ant habitat on a steady surface in order to prevent cave-ins. Ants eat pretty much anything, but they especially like apples, hard-boiled eggs, hamburgers, leaves, and honey mixed with water. A pinhead size helping of any of these foods is enough for the whole colony for an entire week. The temperature should be kept at a consistent 65 to 75 degrees Fahrenheit.
Recommended Age
The Ant World Farm by Backyard Safari is intended for children ages 4 and up. Although children this young will be fascinated by the tiny creatures, children and teenagers ten years or more their senior will enjoy this product immensely as well. That is what is terrific about the Ant World. It is almost timeless and ageless, since people of all ages will be intrigued by the tiny, bustling world that is brought into your home.
Product Dimensions
Weighs 1 Pound