Backyard Science Ant Hill Making Kit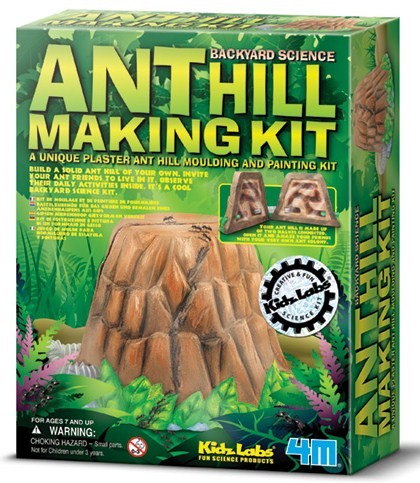 As an Amazon Associate I earn from qualifying purchases
This ant habitat is slightly different than others on the market, since you don't only get to raise your own ant colony, but create it as well. Backyard Science introduces a unique kit that allows you to build your own ant hill. The kit includes a plaster ant hill molding and enough plaster to create one ant hill consisting of two halves. You mold the plaster into the ant hill shape, paint it with the included paint and brush, and follow the instructions of how to have fun with your ants. The ants are not included with the kit.
Contents of the Ant Farm
The kit comes with 1 set plastic ant hill mold, 1 fine quality plaster, 1 paint strip, 1 brush, 1 connecting tunnel, 2 transparent wall sheets, 1 white glue, 1 detailed molding, and painting and assembly instructions with fun facts and guides for locating ants. The contents are enough to construct one ant hill, which consists of two halves. The ant hill measures approximately 4 inches in height.
Ants
Ants are not included with the set. You must catch them on your own or buy them from an independent ant supplier. It can be difficult to catch ants on your own. When attempting to catch ants, always make sure you are wearing gloves because they can bite or sting you. You should never combine ants that you have caught with ants that you have ordered. Ants form different colonies will try and defend themselves by killing off the "foreigners". Ordered ants generally dig better since they are larger than ants most people find in their backyards. It is best to put the ants in the refrigerator for ten to fifteen minutes before putting them into the ant habitat. This will slow them down and make the transfer easier.
Lifespan
In their natural habitat, with their queen ant around, ants can live as long as a year. However, in your own ant habitat the ants will probably live between a few weeks and a couple of months although some may die right away.
Ant Care
Ants need little care; that is part of what makes them such great pets. With that said, there are still a few things that need to be done regularly in order to ensure the best results from your colony. Ants need food and water, but too much of either can kill them. You need to feed and water your ants according to the instructions. The ant habitat should be kept away from direct sunlight and there should be a consistent temperature of 65 to 75 degrees Fahrenheit. A steady surface is needed in order to prevent the ants from being crushed. Ants like apples, hard-boiled eggs, hamburgers, leaves, and water mixed with honey. Just a tiny bit is enough for an entire colony for a whole week, so don't overfeed them!
Recommended Age
The Ant Farm Habitat Science Making Kit is recommended for age 7 and up. Since this product requires more assembling than other ant habitats, the recommended age is a bit older.
Product Dimensions
Approximately 9 x 7 x 2.5 inches ; 6.8 pounds