GeoSafari Ant Factory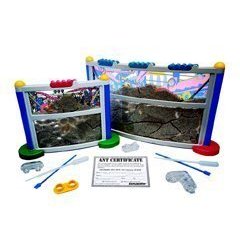 As an Amazon Associate I earn from qualifying purchases
Having your own ant habitat is not only fun and exciting, but it is also a terrific learning experience. It is fascinating how such tiny creatures are capable of lifting objects that are sometimes twenty times their weight. They work as a team building their colony, collecting food, taking care of the young, and protecting each other from danger. It is not only fun to watch how these little critters work, but how the various species differ from one another. This is something that the GeoSafari Ant Factory offers that no other live ant habitat does. The kit includes a step-by-step instruction booklet, which contains tips on what to look for and how to go about using the excavation tool. What's more is that experiments on how to identify the specimens are also included along with a specimen identification chart and display tray.

The GeoSafari Ant Factory is so much more than an ant habitat. It is a living and working science experiment and object of study and observation. With the Ant Factory kit you don't just watch, but observe and learn. It makes a terrific addition to a classroom as well as an educational tool for one's home. Through the help of this GeoSafari product, you will become a scientist learning to record specimens in the log book and test for the different classifications.
Contents of the Ant Farm
This fine Ant Factory set includes a 24-page guide book with detailed information on ant care and colony observation tips, a water dropper, unique Sugarcement sand, a canal starting tool, and a certificate for obtaining the free ants by mail (excluding the cost for shipping, handling, and insurance.)
Ants
The live ants are not included with the GeoSafari Ant Factory but can be sent for with the certificate for ants that comes along with the Ant Factory. Approximately 25 ants come in the tube. The ants can take a few weeks to arrive. They are not sent out during all seasons of the year since extreme climates can kill the ants in transit. The best time for ordering the ants is between April and October. Even during those months some ants can arrive expired. You can also try capturing your own ants although this can be difficult to do and the ants that you catch may not tunnel or survive as well as the ordered ants, since yard ants are usually a smaller breed. Make sure to wear gloves when attempting to catch ants because they can bite or sting. Do not combine the ordered ants with other ants. They will end up killing each other.
Lifespan
Ants can live between a year and two in their natural habitat, however because it is illegal to buy a queen ant and it is difficult to capture one, and because ants survive better outdoors, typically ants will only live between a few weeks and a few months in the Ant Factory. This is still plenty of time to study the insects and watch as they build tunnel, bridges, and caves.
Ant Care
The ants should be fed and watered once a week, according to the instruction booklet. Ants don't need much to survive. In fact, overfeeding them and overwatering them are the two main reasons for their premature expiration. The Ant Factory should receive light, but direct sunlight can kill them. Keep your GeoSafari Ant Factory in a safe place on a steady surface and make sure not to shake it, as a cave-in can crush the poor ants. The temperature should be kept at a comfortable 65 to 75 degrees Farenheit.
Tips
Have your Ant Factory set up and ready for the ants' arrival. This includes filling the factory with the sand and adding the starter water. The ants should be put in the refrigerator for fifteen minutes in order to stun them. Otherwise you may have these little critters running all around your house. It may take between 24 and 48 hours before the ants begin to dig. They need to grow accustomed to their new environment.
Recommended Age
The GeoSafari Ant Factory is recommended from age three to ninety-nine. This just goes to show that young children are not the only ones who will enjoy the Ant Factory. Teenagers as well as adults will find this small world fascinating and exciting. Anyone who comes across the Ant Factory will stop to take a peek and see what the ants are up to
Product Dimensions
15.4 x 9.3 x 2.8 inches ; 2.6 pounds